PA Election Investigation — Restoring Faith in Our Elections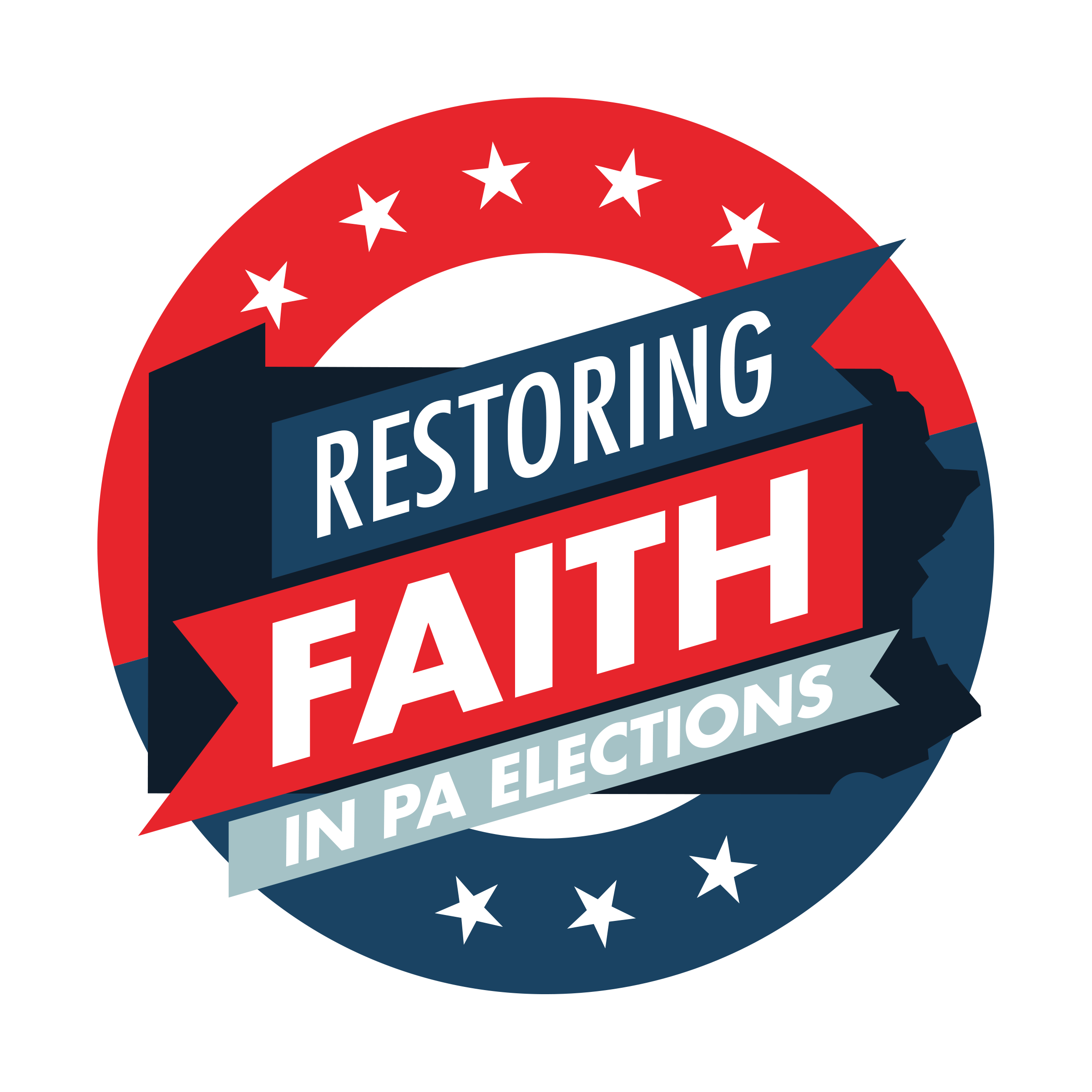 In order to identify and address election irregularities and strengthen our voting laws, the Senate Intergovernmental Operations Committee is conducting a thorough investigation into the 2020 General Election and the 2021 Primary Election. 
Our work will build upon previous reviews by the Senate Special Committee on Election Integrity and Reform and the House State Government Committee. However, our approach will be focused on digging much deeper into the problems and irregularities that have been reported in the system and working to rectify those issues.
Senator Cris Dush
A Responsible, Thoughtful and Transparent Investigation
The investigation will include public hearings, eyewitness testimony from Pennsylvanians, a deep-dive review into our voting system, and recommendations for legislative improvements. The goal is to create a fair, transparent process everyone can believe in.
Sign Up for Updates
Subscribe to stay connected with Senator Dush's "Inside the Election Investigation" e-newsletter.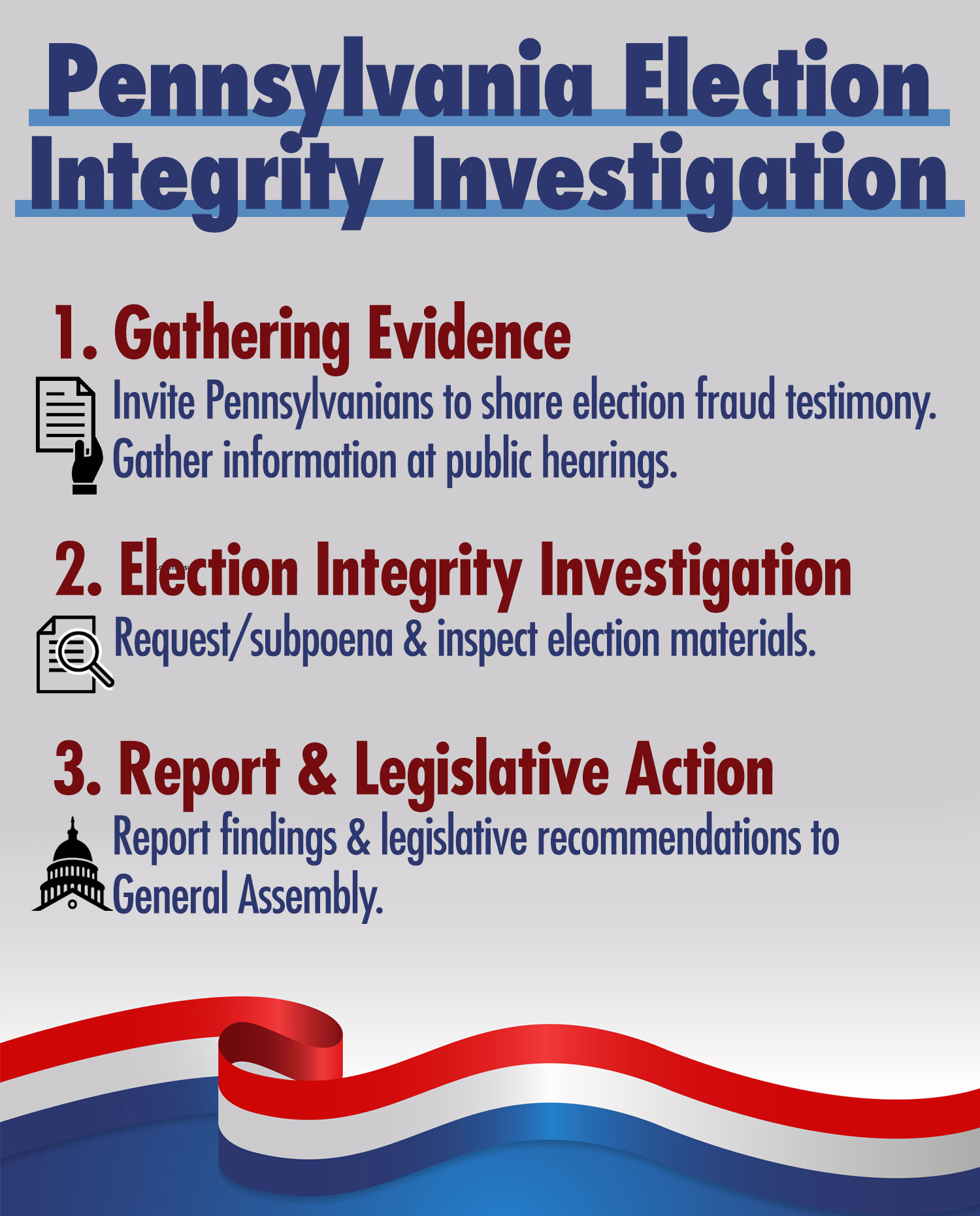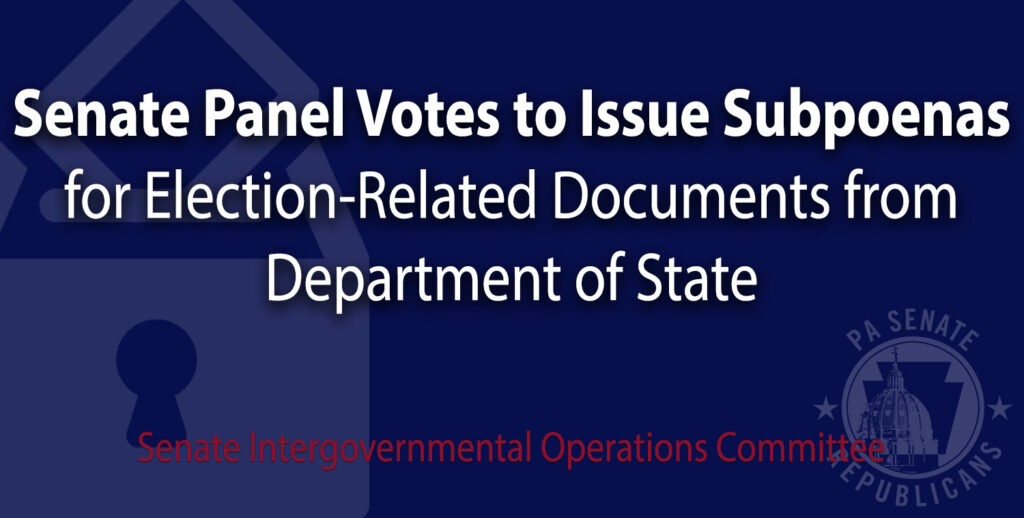 The Senate Intergovernmental Operations Committee met on September 15, 2021, to approve a subpoena for data, communications and other materials from the Pennsylvania Department of State.
Read the full language of the subpoena here.
This information will be critical to the committee's review of our elections, providing a clearer picture of potential problems with the state's voter registration system and any other voting irregularities.
Submit Your Testimony Now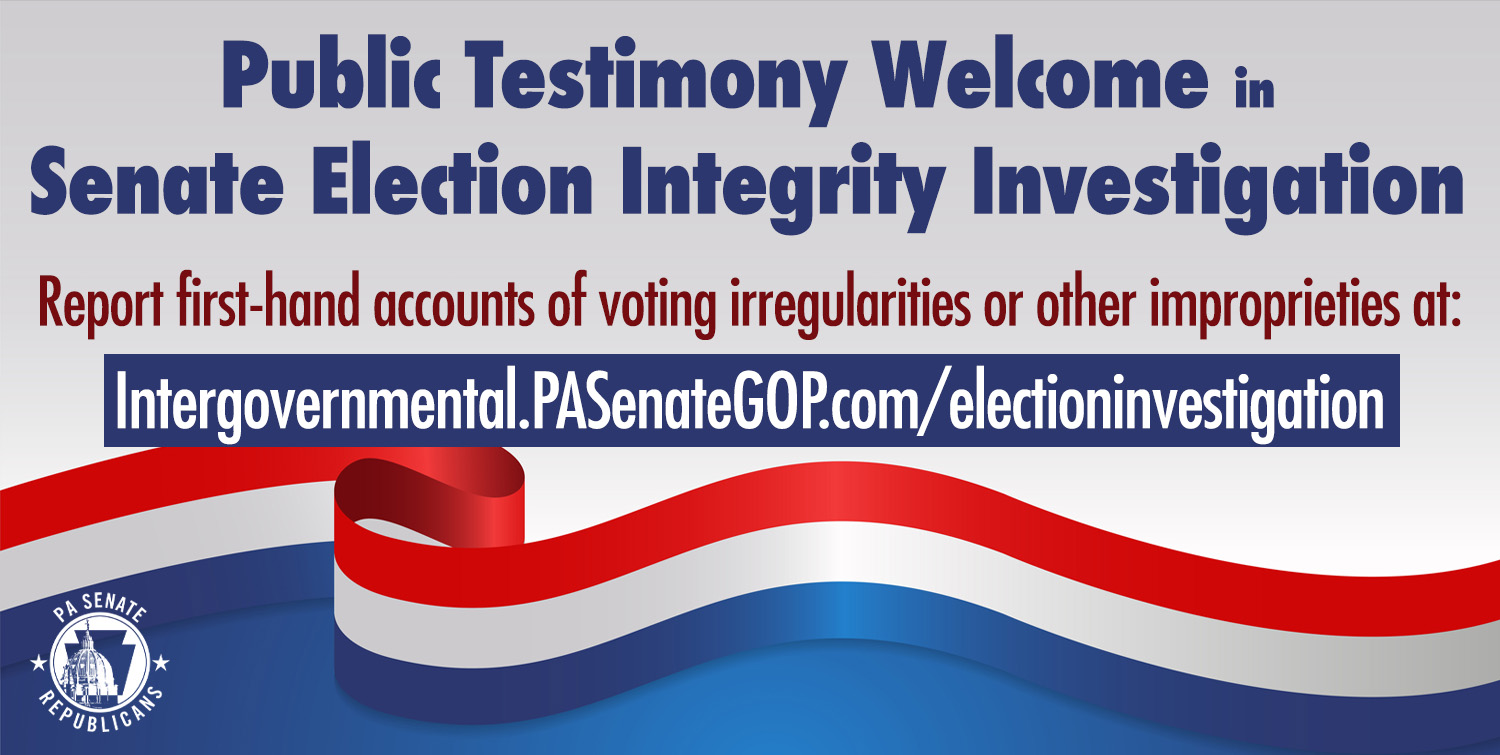 Gathering firsthand testimony from Pennsylvanians is an important part of the investigation. If you witnessed or were personally and directly affected by election improprieties, please consider sharing your stories here.
Please note testimony is only being accepted if you are willing to sign a sworn affidavit and potentially testify at a future hearing.
A Crisis of Confidence in PA Voting Systems
Public opinion polls have revealed a troubling crisis of confidence in our election system.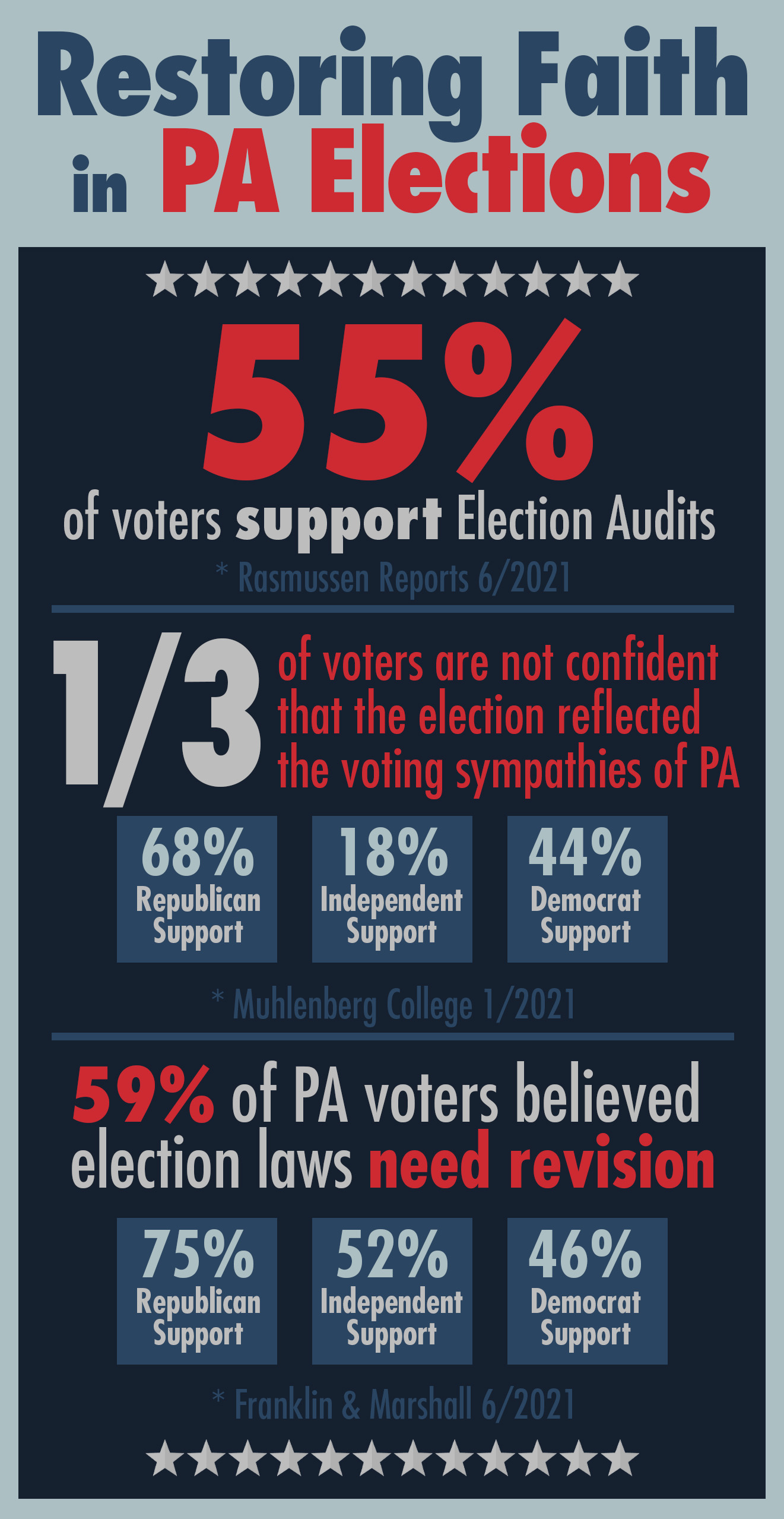 Without a thorough investigation of our elections, these problems will continue to fester and discourage participation in the democratic process.
Frequently Asked Questions
Why are lawmakers trying to get my Social Security number and Driver License number?
That information is necessary to help identify any duplicate registrations, fake registrations, and any votes resulting from those ineligible registrations. Having that information allows us to complete a thorough investigation to ensure every vote cast in every election comes from a living, legal, registered voter.
The General Assembly having this information is no different than any other branch of government having this information. Lawmakers frequently have access to this type of information to help constituents manage problems with the Unemployment Compensation system and other concerns, and no problems have been reported.
What security measures will be in place to protect my personal information?
Every measure is being taken to ensure voter data does not fall into the wrong hands. The information will be stored securely and only made available for the purposes of the investigation. In addition, any third-party vendor personnel will be required to sign a non-disclosure agreement to protect this information under penalty of law.
Hasn't the state already conducted two audits?
The two audits mandated by the state were completed, but were limited in size and scope. These reviews are routine and not designed to address broader concerns about election security and integrity. Our investigation and audit are intended to go much further.
How will the investigation be funded?
The investigation will be funded through Senate accounts. As such, every effort will be made to minimize costs while still providing a thorough examination of our elections.
Who will conduct the audit?
Conversations are ongoing with different vendors to determine the size and scope of the investigation. We are working to identify a vendor who can complete the work with proper measures in place to ensure the integrity and security of the process.
Will you do the same type of audit as Arizona?
Although we have learned valuable lessons from Arizona, the process will differ in many ways. As soon as a vendor is identified, we will work with them to determine best practices and allow the investigation to follow wherever the evidence leads.
Committee Videos & Hearings
Public Hearing — September 15, 2021
Public Hearing — September 9, 2021
Meet Chairman, Senator Cris Dush
HARRISBURG – Senator Cris Dush (R-Jefferson) provided an update today on the status of the Senate Intergovernmental Operations Committee's effort to conduct a thoughtful, responsible review of recent elections. The Attorney General and Senate Democrats sought to block...